The Trust
In the 18 years since its inception the Trust has distributed over £3.5 million equally between the six charities it supports.
Blue Cross, The Brooke, Compassion in World Farming, World Horse Welfare, Racing Welfare and The Thoroughbred Rehabilitation Centre.
Christmas Cards
2014 Christmas cards are available to order now.
The 2014 card features a painting titled They're Off and Running by the brilliant artist Mao Wen Biao, and costs £7.50 +P&P per pack of 10.
The Sir Peter O'Sullevan Lunch Auction 2014
The 2014 Award Lunch on November 27th was again held at the Dorchester, in London's Park Lane. The 9 lots raised an incredible £204,000 with Nick Nugent once again entertaining guests with his unique style.
The auction was followed by a moving and memorable speech from Sir Peter's old friend Sir Terry Wogan. The wonderful occasion missed the presence of "the voice of racing" who was unable to attend through ill health. No doubt he was there in spirit.
Prints
An edition of 50 prints by Peter Curling are now available at £275 +P&P.
Funds raised support the vital work of our charities.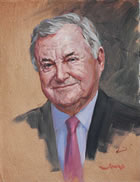 The Award
This annual event is the principal fund-raising initiative of The Sir Peter O'Sullevan Charitable Trust, which is now in its 18th year.