THE PETER O'SULLEVAN CHARITABLE TRUST
In the 19 years since its inception the Trust has distributed over £4 million equally between the six charities it supports.
Blue Cross, The Brooke, Compassion in World Farming, World Horse Welfare, Racing Welfare and The Thoroughbred Rehabilitation Centre.
Audio recording of service held at St Luke's Church, 27 October 2015
Full Service



Rory Bremner



Hugh McIlvanney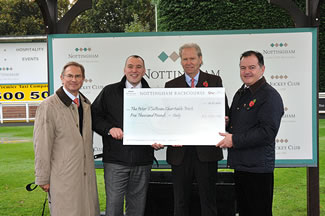 Peter Jensen, Chairman of Nottingham Racecourse and long time Trust Supporter initiates £5,000 donation and race in Peter's honour
Geoffrey Hughes, Trustee of the Sir Peter O'Sullevan Charitable Trust, receives a £5,000 cheque, half from the racecourse and half from the race-day sponsor 32Red.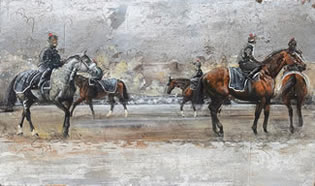 Christmas Cards
2015 Christmas cards are available to order now.
The 2015 card features a painting titled Silver Morning by the brilliant artist Katie O'Sullivan, and costs £8.00 +P&P per pack of 10.
Books
A limited number of signed copies of Peter O'Sullevan's update of his bestselling autobiography Calling the Horses are now available at £50 incl P&P.
Funds raised support the vital work of our charities.
Calling the Horses
Prices include UK P&P. Please contact us for non-UK orders
Prints
An edition of 50 prints by Peter Curling are now available at £275 +P&P.
Funds raised support the vital work of our charities.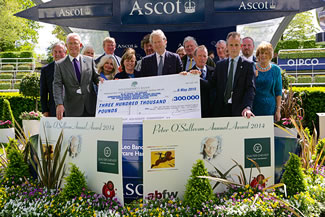 Cheque Presentation
Trustee Geoffrey Hughes presenting a cheque for £300,000 to the six charities supported by the Trust.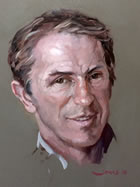 The Award
This annual event is the principal fund-raising initiative of The Sir Peter O'Sullevan Charitable Trust, which is now in its 19th year.