THE PETER O'SULLEVAN CHARITABLE TRUST
Now in it's 23rd year the Trust has distributed over £5 million equally between the six charities it supports.
Blue Cross, Brooke, Compassion in World Farming, World Horse Welfare, Racing Welfare and The British Thoroughbred ReTraining Centre.
In addition the Trust has pledged over £6 million to other charitable causes, mainly equine or equine related.
Donations
Please contact us for other ways to donate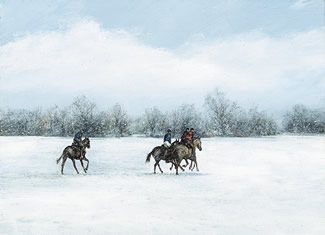 Christmas Cards
2020 Christmas cards are available to order now.
The 2020 card features a painting titled The Bleak Midwinter by the brilliant artist Garry Pereira, and costs £8.00 +P&P per pack of 10.
2019 AWARD
The 2019 Award was presented to Brough Scott by 2018 Award winner Aidan O'Brien.
This year's lunch sadly cancelled
The Sir Peter O'Sullevan award lunch in 2020 has been cancelled, with fears the event will not be able to meet adequate social-distancing requirements.
The event was scheduled for the Dorchester hotel on November 19th and will not be rearranged this year.
On behalf of the Trust, Nigel Payne said: "We regularly have over 500 guests and we have been advised that social distancing of some sort will almost certainly still be in place in November, which tells us all we needed to know."
The lunch has been confirmed for November 25 in 2021.
Audio recording of service held at St Luke's Church, 27 October 2015
Full Service



Rory Bremner



Hugh McIlvanney


Karen Watson
November 2020
The Trust helps Karen towards her winter feed - we would love to do more in the future.
Books
A limited number of signed copies of Peter O'Sullevan's update of his bestselling autobiography Calling the Horses are now available at £50 incl P&P.
Funds raised support the vital work of our charities.
SOLD OUT
Prints
An edition of 50 prints by Peter Curling are now available at £275 +P&P.
Funds raised support the vital work of our charities.