NEWS & EVENTS
Park Palace Ponies
February 2020

Above is Millie, one of the Park Palace Ponies sponsored by the Trust. Park Palace Ponies provides riding facilities for young children in the City of Liverpool and has a close relationship with Aintree and The Peter O'Sullevan hub.
First there was Millie and now there is Kev.
The Peter O'Sullevan Memorial Chase
November 2019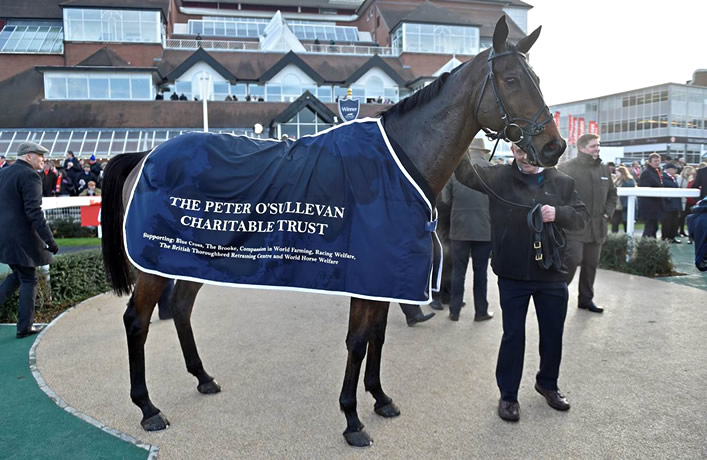 Bennys Gift, ridden by Harry Skelton and trained by brother Dan, winner of the Sir Peter O'Sullevan Memorial Chase at Newbury on Saturday 30th November.
Peter O'Sullevan House
October 2019

The official opening of Peter O'Sullevan House took place in Newmarket on October 11th 2019.
The Fortune Centre of Riding Therapy
September 2019

Martin Clunes officially opened "Peter's box", a marvellous new facility built with the aid of the Trust, for the Fortune Centre in the New Forest.
the Blue Cross
August 2019

The Blue Cross Horse Ambulance funded by the Trust will soon be on the road.
Spinal Injuries Association
July 2019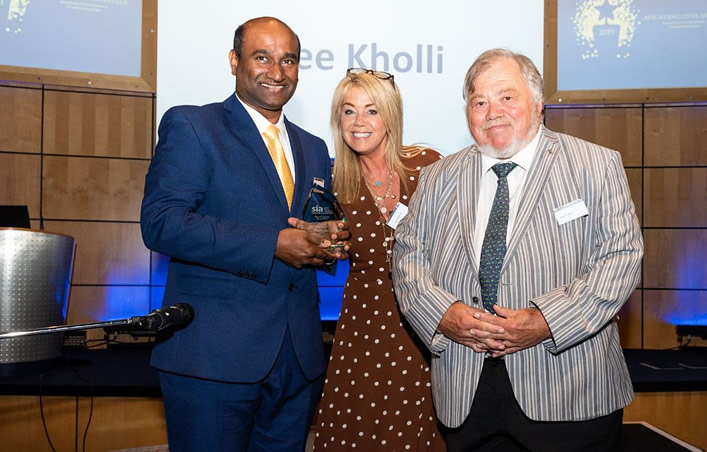 The Trust sponsored an award towards specialist nurse training at The SIA Rebuilding Lives Awards.
Isles of Scilly Wildlife Trust
July 2019

The Trust were delighted to help the Isles of Scilly Wildlife Trust. Peter and his wife often visited the Islands. 
Compassion in World Farming Award ceremony in Brussels 
June 2019

Left to right:
Nigel Payne, Emma Milne (presenter), Philip Lymbery (CIWF Chief Executive), and Geoffrey Hughes.
Palestinian Territories
May 2019

Since the Sir Peter O'Sullevan Charitable Trust purchased this for us about a year ago, we have treated in the region of 6,000 animals at towns and villages all across the Palestinian Territories. Without your generosity, this vital work would not have been able to happen and we are so very grateful to you for your support.
Ebony Riding School
April 2019

The Trust are big supporters of the Ebony Riding School in Brixton.
At our suggestion a group of the youngsters where regally treated by Aintree to a day at the Grand National.
Jamie's Farm, Monmouthshire
April 2019

Nigel Payne and his family paid a visit to Jamie's Farm in Monmouthshire where The Trust financed a new stable and paddocks named after Peter.
The farm reintroduces young children in care to life's values.
Seniors Handicap Hurdle at Newbury
March 2019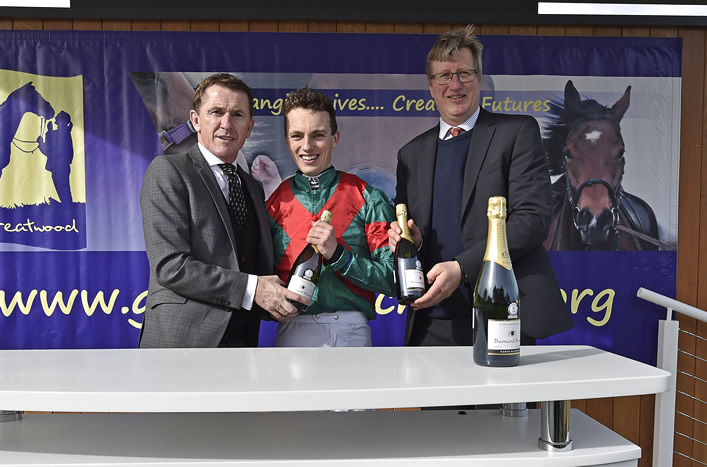 Sir Anthony McCoy presents the prizes for the The Peter O'Sullevan Charitable Trust H.O.P.E™ Programme Seniors Handicap Hurdle at Newbury on March 2nd.
The Trust are supporting The Greatwood H.O.P.E programme for the next three years.