The Sir Peter O'Sullevan Award Lunch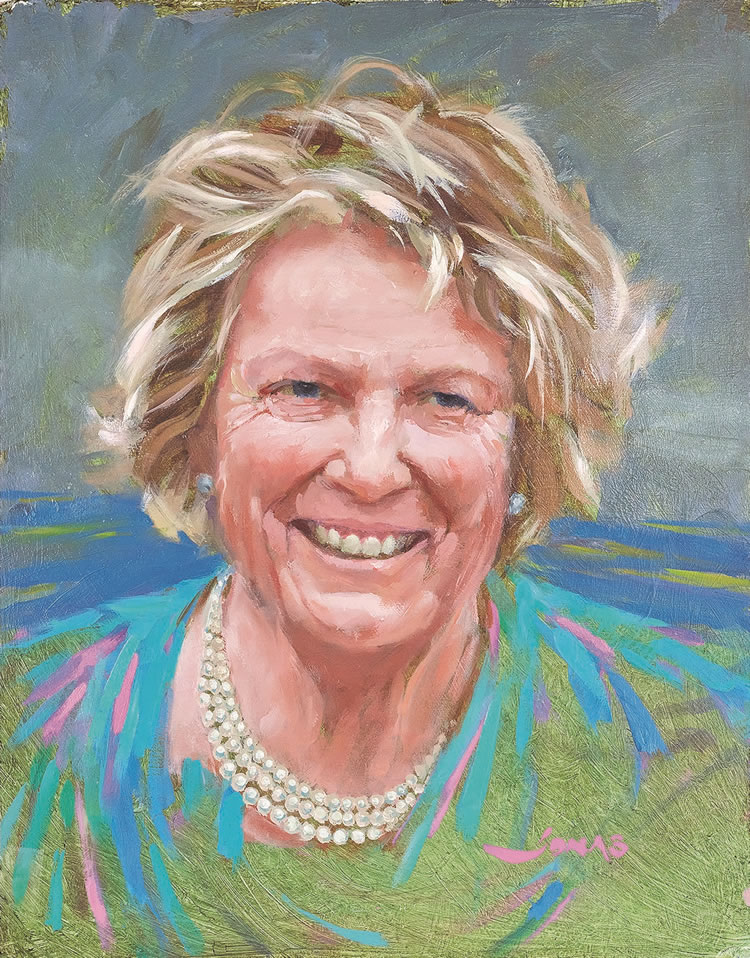 This annual event is the principal fund-raising initiative of The Sir Peter O'Sullevan Charitable Trust, which was set up in 1999 following the success of the first two Annual Award Lunches.
The perpetual bronze in the shape of Peter's own racing binoculars, sculpted by Janie Beardsall, is awarded for a lifetime's contribution to the sport. It already bears the names of some of the most renowned and respected people in horseracing.
The 2021 Award was presented to Jessica Harrington by 2019 Award winner Brough Scott.
The 2022 Lunch will again be at the Dorchester and will be held on Thursday November 24th.
Recipients of the Award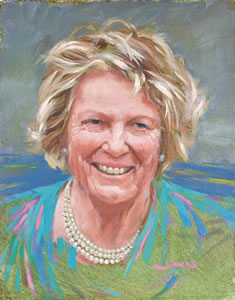 2021
Jessica Harrington
2019
Brough Scott MBE
2018
Aidan O'Brien
2017
Hugh Mcllvanney OBE
2016
John Gosden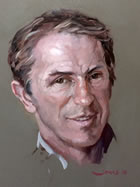 2015
AP McCoy OBE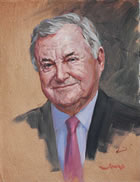 2014
La famille Head
2013
Martin Pipe
2012
Sir Henry Cecil
2011
JP McManus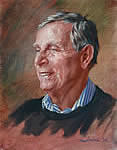 2010
Clive Brittain
2009
Reg Hollinshead
2008
Lord Oaksey OBE
2007
Michael Dickinson
2006
Aga Khan
2005
The Balding Brothers
2005
The Balding Brothers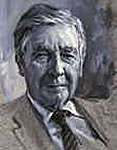 2004
Dick Francis CBE
2003
Pat Eddery
2002
HM The Queen
2001
Vincent O'Brien
2000
Lester Piggott
1999
HM Queen Elizabeth
1998
Major Dick Hern


1997
The Duke of Devonshire KCVO CBE DL
Johnny Jonas
Portraits of the Award Winners
Born in 1948, Johnny Jonas is an international and multi-talented artist, portrait painter, composer and inventor. The culmination of his formal art training was in 1972 when he won a place at the famous Academmia di Belle Arti in Florence, and later at the Fine Art Academy in Perugia. During his studies he began to paint everyday life scenes and this led him to become essentially a painter of people.
In 1979 he moved to Grimaldi, a small medieval village overlooking the French Riviera, Monte Carlo and Cannes. Here he began the series of paintings which have become the hallmark of his work – people going about their everyday life, in street cafes and market squares, in and around Monte Carlo, orchestra and opera rehearsals, circus, casino, jazz and cabaret.
He returned to England in 1985, and a chance invitation to the races inspired a series of exhibitions themed around the British Sporting Year, including 'A Day at the Races' and 'Looking for a Winner'. His fascination lay as much with the urgency and action of the sport as with the punters, the bookies, the randomness of people enjoying themselves.
His many commissions include military campaigns for the Royal Artillery, the Royal Engineers and Royal Logistics Corps, the assembly of the main drill for Eurotunnel, and portraits of Sir Geoffrey Howe, Lord Vincent, Lord Wakeham, and more recently, the official portrait of H.M. Queen Elizabeth the Queen Mother.